Kalyanee Mam – Executive Director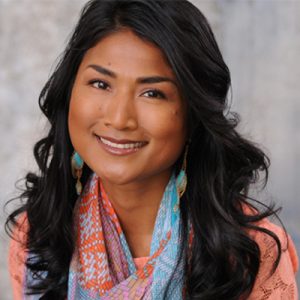 Board Member Kalyanee Mam is the recently-named Executive Director of Informing to Empower. Mam is an award-winning filmmaker whose film, A River Changes Course, which she directed and produced, has won several awards, including the Grand Jury Award for World Cinema Documentary at the 2013 Sundance Film Festival and the Golden Gate Award for Best Documentary Feature at the 2013 San Francisco International Film Festival. Mam is also known for her work with director Charles Ferguson as Cinematographer, Associate Producer, and Researcher for the 2011 Academy Award-winning documentary Inside Job, about the global financial crisis.
Mam's latest work, Lost World, featured in Emergence Magazine and received The Eric Moe Award for Best Short on Sustainability. She also worked as a cinematographer and associate producer on 2011 Oscar-winning documentary Inside Job.
Her work has been generously supported by the John D. and Catherine T. MacArthur Foundation, the Kendeda Fund, Kalliopeia Foundation, the Documentation Center of Cambodia, and the Pulitzer Center on Crisis Reporting.
After graduating from Yale University, Mam received her law degree from UCLA School of Law. Mam has worked with International Bridges to Justice at the National Legal Aid Center in Beijing, China, the Refugee Law Clinic at the University of Witswatersand in Johannesburg, South Africa, and the Asian Pacific American Legal Center, where she assisted immigrant victims of domestic violence file for permanent residence status in the United States under the Violence Against Women Act.
About the Candidates Video Debate
This Candidates Video Debate is a project of the non-partisan democratizing media non-profit,
Informing to Empower
. Our mission is to bring transparency, accountability and integrity to a political process now corrupted by political advertising paid for by special interest donors. We do this by empowering citizens to be the change they want to see by easily sharing, with their social and family networks, political candidates speaking about their positions on important issues. All videos are unedited except for start and stop times, providing a pundit-free forum to help voters make better-informed decisions.​